Your ClassVR Headset's Storage

CVR155, CVR155-A, CVR155-A1 : 16GB total storage (Including System files)

CVR255 : 32GB Total Storage (Including system files)

CVR255-64 : 64GB Total Storage (Including system files)
Depending on your model the ClassVR has between 16GB and 64GB of internal storage. This internal storage enables you to cache content, which is the process of the content being downloaded and temporarily stored on the device(s) so it is ready to access without having to continually re-download the content via a Wi-Fi connection. In doing so, once you have sent content to the headsets from your ClassVR Portal, the content will remain downloaded to the headset.

Selecting content from the 'Subscriptions' in your Portal's Administration Centre may cause your device(s) to approach their maximum storage capacity. This is also affected by content cached through playlists and custom content pushed to the devices.

As a result, you may need to clear the cache to enable you to send new content to the headsets.
Clearing the Cache

Currently, you can only clear the entire cache of a device (or series of devices). In doing so, you will remove the cached data for all 360 videos, 3D models and custom cloud content, which had previously been downloaded via playlists to the devices.


NOTE : The devices should be switched on and connected to the network throughout this process, they can be on stand-by on charge but must appear as 'connected' in the portal.
To clear the cache you need to have at least '
Admin
' access to your portal.
Login to the Portal at http://portal.classvr.com

Select the 'settings' in the top right corner.


Select 'Administration Portal' from the Organsiation options.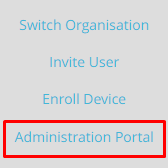 Select 'Devices' from the Admin menu on the left to display all your currently enrolled devices and select technical information.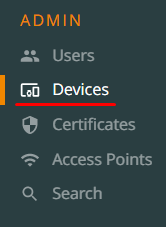 Selecting 'Free Storage' from the 'Actions' pane will show you the current storage levels for the devices that are currently enrolled. This will be displayed as a column in the Devices panel.


On the right of the information panel you are able to select devices you wish to apply changes to. Only these devices will have changes applied to them, you can 'select all' by clicking in the top box.

From the 'Actions Pane' select which action you would like to take.

Choosing to either
clear the all of the device's content, including subscribed content, or just content which has been sent to it and cached via the Portal using playlists.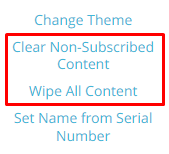 'Clear Non-Subscribed Content' will remove all content from the headsets which is NOT subscribed to. Subscribed content will remain on the headsets.

'
Wipe All Content
' will remove all content from the headsets INCLUDING subscribed content. To avoid the subscribed content being automatically re-downloaded, you will need to un-tick the theme/subject in the Subscriptions section of the Administration Portal. See '
Subscribed content
' for further information.
Once the selections have been made and the command sent, restart the device(s)


NOTE : If you have installed additional applications, a factory reset is the only way to remove all of these apps in one single action (individual apps can be uninstalled via the android settings)