Creating and Sharing Playlists
Playlists.

A 'Playlist' is made up of a series of individual Tracks. Users can create Playlists which help them teach bespoke and personalised learning objectives.

You can create and share playlists for use by other staff members in your organisation.
Creating playlists

Drag the required content to the 'Playlist' area of your portal.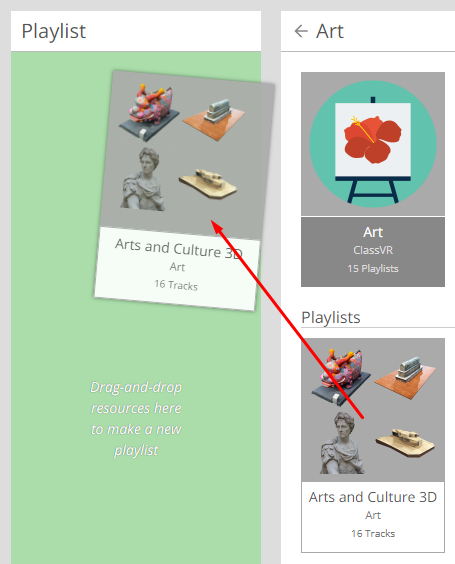 Individual items can be removed by dragging out of the playlist or re-organised into a different order.

You can also add additional content from other playlists, the ClassVR content or your own custom uploaded content.

Once you are happy with your current playlist use the 'Save' button to add to your library.


Enter a name for the new playlist and this will now appear under 'My playlists' in the 'Libraries' section of your portal.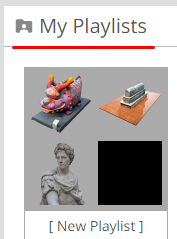 Sharing Playlists

Once you have created and saved a playlist to your ' My Playlists' area you are now ready to share this with your Organisation so other teaches can access this for their own lessons.

Right click on your playlist and 'Copy to' your Org.


Click on 'Shared Playlists' to see this has now become accessible to all those with access to the portal.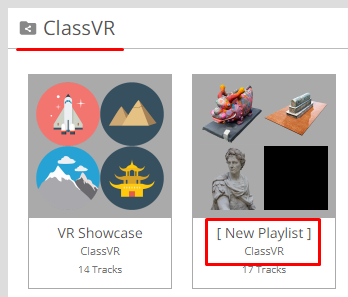 Once you have created a Playlist you can add it to the Community which is accessible to all ClassVR user schools. To add a Playlist you simply need to access the 'My Playlists' section of the 'Libraries' pane and locate the Playlist you wish to share.


You must have right-clicked and added a description to the Playlist for it to be shareable to the Community. ClassVR users locate your Playlist more easily using keywords.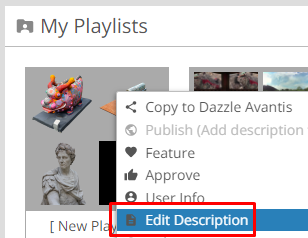 Once a description has been added the option to 'Publish to Community' will become available and you can share the Playlist.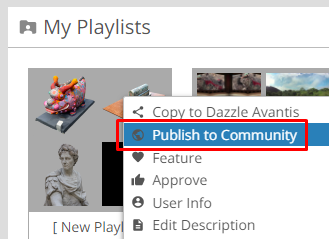 You can remove the Playlist from the Community at any point by right-clicking on it and choosing ' Unpublish'.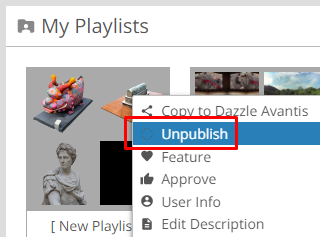 All published content which has been approved by our team of Educational Specialists can then be found under the 'Global' section in the 'Libraries' pane in our Community Library.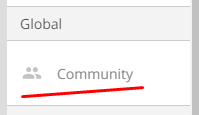 For further assistance please contact the ClassVR support team directly at
support@classvr.com
.
Related Articles

Using Themes for Subscribed Content

Themes. A 'Theme' is a method for creating a playlist combination or individual playlist that can be subscribed to in order to assist with caching content to the headsets. This can assist in reducing loading times for lessons that have been prepared ...

Uploading Your Own 360 Images

Uploading Content to ClassVR However you create your content, all you need to do is get the pictures or videos onto your computer and drag-and-drop them into ClassCloud on the ClassVR portal. From there, you can send them out to any of the ClassVR ...

Student-directed Playlist Exploration

Student-directed Exploration of a Playlist In addition to stepping your class through a guided session, ClassVR also gives you the capability to send collections of 360 experiences to your students to explore independently. To do this, create a ...

Downloading Content in Advance Using the Subscriptions Feature

It can be frustrating when you'd like to use a great 3D model or 360 video with a group of students, but the file is taking some time to download. To make sure all the content you need is ready to use, we've implemented a batch download function for ...

Using Ricoh Theta cameras with ClassVR

The Ricoh Theta range of cameras is very popular. Capturing image and video files is straightforward, and these files work well on ClassVR headsets. Depending on the model, these instructions may differ slightly. This article runs through how to use ...